What is the process for registering a company in Singapore?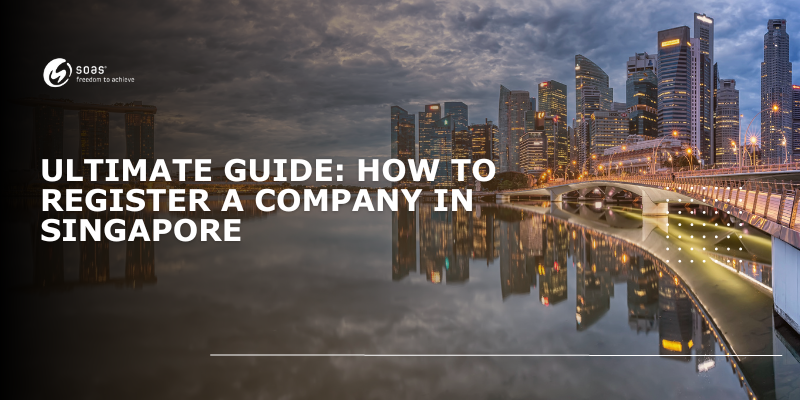 Singapore is one of the world's most business-friendly countries, with a pro-business environment, low taxes, and robust economic infrastructure. The process of registering a company in Singapore is straightforward, and it takes only a few days to complete. In this article, we will guide you through the three simple steps to register a company in Singapore.
Step 1: Company Name Approval
Registering a company is to obtain approval for the company name from ACRA. This process can be completed online and following the guidelines below. If followed the steps, it could lead to quick approval:
The proposed name must not already be in use by an existing business or company in Singapore.
The proposed name must not violate any existing trademarks.
The proposed name must not contain vulgar or offensive language.
The proposed name must not be reserved by another company.
If the proposed name includes regulated words such as "legal", "school", or "bank", it may require additional vetting by corresponding government agencies. If additional vetting is necessary, approval may take a few weeks.
Once you have selected a unique name for your company, you can apply for approval through the BizFile+ portal. The approval process takes only a few minutes, and you will receive an email notification once your name is approved. The name approval is valid for 120 days, and you need to complete the company registration process within this period.
Step 2: Documents Needed for Company Registration
If you're planning to register a company in Singapore, it's important to know what documents you need to prepare for the process. In this article, we'll go through the necessary documents required by the Accounting and Corporate Regulatory Authority (ACRA) to help you with your Singapore company registration.
Company Constitution
The company constitution, which was previously known as the Articles of Association, is a legal document that outlines the rules and regulations that govern your company's operations. ACRA provides a standard Singapore constitution template that you can use, or you can engage a professional firm to draft one for you and provide advice accordingly.
Shareholders' Identification and Residential Address Details
As part of the company registration process with ACRA, you will need to provide identification details and residential address details of all shareholders. This includes their full name, identification or passport number, and contact information, as well as their residential address. Shareholders can be individuals or corporate entities, and it is important to ensure that all information provided is accurate and up-to-date.
If any shareholder is a foreigner and does not have a local residential address, you can engage the services of a registered filing agent to use their local address as the shareholder's registered address. However, this will incur additional fees. Alternatively, the shareholder can rent a virtual office or use the address of a friend or family member who is a Singapore resident.
Signed Consent to Act as Director and Company Secretary
The signed consent to act form for directors and company secretaries during the company registration process in Singapore:
All proposed directors and company secretaries must sign the consent to act form.
The form confirms their willingness to act in the capacity of director or company secretary for the company.
The individual must sign and date the consent form.
The signature must be witnessed by a third party who is not related to the individual.
The signed consent form must be submitted to ACRA with other required documents for company registration.
It is important to ensure that all forms are completed accurately and signed by the appropriate parties to avoid any delays or issues with the registration process.
Additional Supporting Documents as part of the KYC or Know Your Customer due diligence.
For Individual Shareholders
Proof of Identification: You'll need to provide a copy of your passport or NRIC as proof of identification.
Residential Address Proof: You'll also need to provide a document that shows your name and residential address. This can be a utility bill, tax notice, or contractual agreement.
Professional Background: Lastly, you can submit either a Curriculum Vitae (CV) or a link to your LinkedIn profile to provide your professional background.
For Corporate Shareholders
If your Singapore company has corporate shareholders, additional documents may be required depending on the internal procedures of the Corporate Service Provider (CSP) you engage. The following documents are required to verify the identity and legitimacy of the corporate shareholder.
Certificate of Incorporation. You'll need to provide a copy of the parent company's Certificate of Incorporation. This document shows the registration number, date of incorporation, and other details about the parent company.
 Memorandum and Articles of Association. You'll also need to provide a copy of the parent company's Memorandum and Articles of Association. This document outlines the objectives, rights, and duties of the company.
Company Extract. The Company Extract is similar to the BizFile system and contains essential information such as the company name, address, business registration number, shareholders, directors, paid-up capital, and business activities.
Proof of Business of Parent Company. You'll need to provide recent invoices, financial statements, contracts, or bills of lading to prove the legitimacy and nature of the business of the parent company.
Power of Attorney. A Power of Attorney (POA) issued by the parent company is required to authorize respective personnel to sign and execute documents pertaining to the Singapore entity.
Identity Proof of Ultimate Beneficial Owner. Lastly, you'll need to provide identity proof of the Ultimate Beneficial Owner (UBO) such as passport and residential address checks.
Step 3: Register your business with ACRA
One of the most important steps in this process is registering your business with the Accounting and Corporate Regulatory Authority (ACRA), the country's company registrar.
Once you have selected a suitable name for your business and prepared all the necessary documents, the next step is to register your company with ACRA. This step can be done online and is generally completed in under an hour. However, in rare cases, some company registrations may need to be referred to other government authorities for further vetting. If this happens, ACRA may require a few weeks to complete the additional vetting process.
By registering your business with ACRA, you will be able to enjoy a host of benefits. For one, your company will be recognized as a legal entity with the ability to enter into contracts, own assets, and sue or be sued in court. Additionally, registering your business will allow you to apply for relevant licenses and permits, open a corporate bank account, and access government funding and grants.
Conclusion:
In conclusion, Singapore is a great place to start a business, and the process of registering a company in Singapore is simple and straightforward. By following the three simple steps outlined in this article, you can register your company and start your business operations in Singapore. If you have any further questions or need assistance with registering your company in Singapore,
Streamline Your Business Setup in Singapore
Our team of experts is here to guide you through every step of the way, from selecting a suitable company name to registering with the relevant authorities. Take advantage of our incorporation services today and start your journey towards success in Singapore!