How to Buy Corporate Compliance & Financial Profile from Bizfile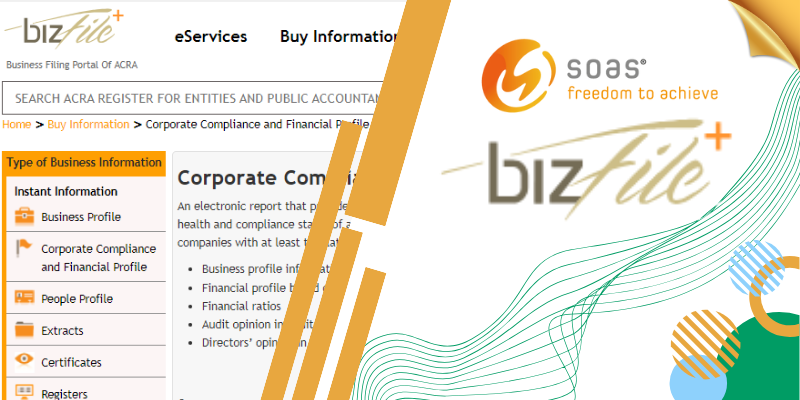 In today's rapidly evolving business landscape, corporate compliance and financial profiling have emerged as crucial aspects that directly impact a company's success, reputation, and legal standing. Navigating these intricacies requires not only a deep understanding of regulatory frameworks but also the right tools and resources to ensure a seamless process. This article aims to provide you with a comprehensive guide on how to buy Corporate Compliance & Financial Profile from Bizfile, shedding light on the critical steps and considerations to help you make informed decisions for your business growth.
What are Corporate Compliance and Financial Profiles?
Corporate Compliance and Financial Profiles are electronic reports offering a compact yet comprehensive overview of a company's financial well-being and adherence to compliance standards. Designed to be user-friendly and insightful, these profiles serve as a quick reference tool for business stakeholders, investors, and decision-makers. The report condenses complex financial and regulatory data into a convenient format, making it easier to gauge a company's financial trajectory and legal standing at once.
Contents of Corporate Compliance and Financial Profiles
These profiles encapsulate a range of crucial information that provides a holistic snapshot of a company's performance and compliance posture. The contents typically encompass:
1. Business Profile Information
This section provides a concise overview of the company's core details, including its name, registration number, industry classification, and key contact information. Having this information readily available is essential for effective communication and reference.
2. Financial Profile
Drawing from up to three years of comparative financial data, this segment offers a comprehensive financial overview. This includes key financial statements such as balance sheets, income statements, and cash flow statements. By analyzing trends and patterns over time, stakeholders can gain insights into the company's financial stability and growth trajectory.
3. Financial Ratios
Financial ratios serve as vital indicators of a company's financial health. These ratios are calculated based on financial data and provide insights into the company's liquidity, profitability, efficiency, and solvency. Stakeholders can use these ratios to compare the company's performance against industry benchmarks and make informed investment decisions.
4. Audit Opinion in Auditors' Report
The audit opinion is a crucial component of the report, offering insights into the credibility and accuracy of the financial statements. It reflects the external auditors' assessment of whether the financial statements present a true and fair view of the company's financial position and performance.
5. Directors' Opinion in Statement by Directors
The directors' opinion section allows the company's leadership to express their perspective on its financial performance, position, and prospects. This provides valuable insights into the company's strategic direction and outlook.
How to Buy Corporate Compliance and Financial Profile from Bizfile?
Acquiring your Corporate Compliance and Financial Profile is a simple and straightforward process.
Follow these steps to get started:
Log in to BizFile+: Use your login credentials to access the secure BizFile+ platform, where you will initiate the process.
Navigate to "Buy Information": Inside the BizFile+ portal, find the section labeled "Buy Information." Click on it to proceed with your CCFP (Corporate Compliance and Financial Profile) purchase.
Cost: For just $50.00, you gain access to insights that can significantly guide your business decisions.
Receive an Email Guide: Upon successful payment, you will receive an email guide containing instructions on how to download your purchased CCFP. This email will provide you with all the necessary details to access your insights.
For Singpass Users: If you are using Singpass, rest assured that the process is equally simple. Log in to the ACRA BizFile+ portal and locate the "Messages" section. You will find the same email guide, helping you access your product effortlessly.
Download Within 7 Days: Your download link will remain active for 7 days from the date of your purchase. This window offers you ample time to access and secure your valuable insights.
No Extensions: Keep in mind that extensions beyond the 7-day period cannot be granted. Be sure to download your valuable information within this period.
Efficiency: The 15-minute email guide ensures swift access to your purchased product, making your experience seamless.
User-Friendly Options: Whether you choose to use BizFile+ or the ACRA BizFile+ portal, the entire process is designed to prioritize your convenience.
Sample: Corporate Compliance and Financial Profile (CCFP) view sample.
How the CCFP can help in your Business?
For Professional Firms:
As a professional firm, your reputation is built on the quality of the clients you serve. CCFP becomes an indispensable tool to streamline your client evaluation process.
Here is how:
Quick Reference Check: Before onboarding a new client, use CCFP to perform a swift reference check. Ensure their adherence to statutory requirements outlined in the Companies Act, setting the foundation for a compliant partnership.
Business and Financial Profiles: Gain insights into a potential client's financial health through CCFP. Analyze their financial ratios, audit opinions, and directors' perspectives. This information empowers you to make informed decisions about client partnerships.
Competitive Analysis: Benchmark the performance of companies managed by other professional firms. By comparing financial health and compliance records, you can identify areas for improvement and offer tailored solutions.
For Investors:
Investing is a calculated risk, and CCFP can significantly enhance your investment decision-making process:
Mergers and IPOs: When considering a merger or an Initial Public Offering (IPO), CCFP offers critical insights. Assess whether the prospective company promptly discloses information and maintains a strong compliance record, laying the foundation for a transparent and trustworthy investment.
Financial and Business Health: Gain a deeper understanding of the prospective company's financial and business health through CCFP. Analyze their compliance records, financial ratios, and audit opinions to make informed investment choices.
For Business Enterprise Owners:
Business partnerships thrive on mutual trust and reliability. CCFP aids in enhancing these partnerships in many ways:
Compliance Records: Ensure your business partners comply with statutory requirements outlined in the Companies Act. CCFP helps you stay informed about their adherence, reducing potential legal risks.
Business Potential and Financial Health: Gain insights into the potential and financial health of your business partners and competitors. This information is crucial for strategic planning and maintaining a competitive edge.
In today's ever-changing business landscape, the significance of corporate compliance and financial profiles cannot be overstated. This article's comprehensive guide on acquiring Corporate Compliance and financial Profiles from Bizfile underscores their pivotal role in understanding financial health, adherence to regulations, and making well-informed decisions. Whether for professionals evaluating clients, investors assessing opportunities, or business owners forging partnerships, these profiles offer a wealth of insights that can steer strategies and ensure success in the intricate world of business.
About SOAS 
SOAS specializes in offering a comprehensive range of services in Singapore, including Company Incorporation, Accounting and Bookkeeping, and Company Secretarial services. Our team provides personalized Finance Management and Business Coaching, tailoring our approach to suit your unique needs and goals, and ensuring your success in every endeavor. Let's get started with us.