Step-by-Step Guide: Seamlessly Login into Bizfile as a Business User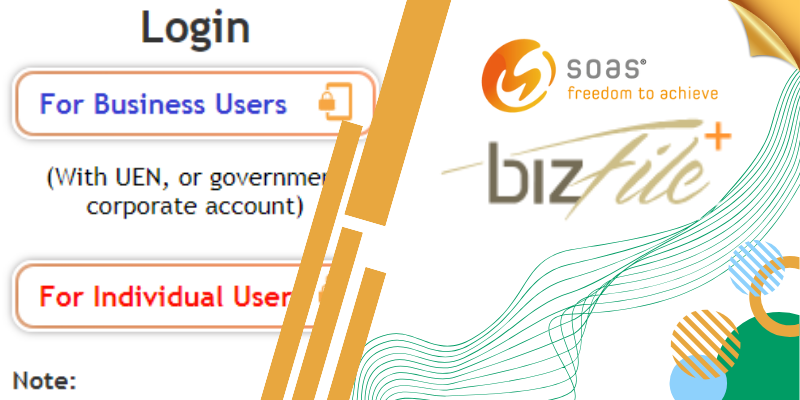 New business user in Singapore, accessing government services through Bizfile requires a secure and efficient login process. This comprehensive guide will walk you through the steps to seamlessly log into Bizfile using your Singpass ID. If you are new to the platform, you will also find instructions on how to register for a Singpass account, ensuring you can easily manage your business transactions online. 
Seamless Access to Bizfile
With your Singpass credentials in hand, accessing Bizfile becomes a breeze.
Follow these steps:
Navigate to the official Bizfile website:
Open your preferred web browser and enter the official Bizfile URL in the address bar.
Ensure you are on a legitimate website to prevent phishing attempts.
Locate and click on the Login (For Business Users) button:
On the Bizfile homepage, find the prominent "Login" or "Sign In" button.
If you are a business user, specifically click on the option that is labeled "Login (For Business Users)".
Enter your Singpass ID and password securely:
Once you are on the login page, input your Singpass ID and the corresponding password.
Ensure that you enter this information accurately to avoid login issues.
By following these straightforward steps, you will be seamlessly logged into Bizfile, ready to manage your business transactions and access the range of government services it offers. If you ever find yourself needing to Retrieve Singpass ID or Reset Password, these functionalities are also available to assist you in regaining access to your account. Remember to keep your Singpass credentials confidential and regularly update your password for optimal security.
For New Business Users: Registering for SingPass
If you are a new business user who has not yet registered for Singpass, there is no need to worry. The registration process is designed to be quick and uncomplicated, requiring just five minutes of your time. Below, you will find a breakdown of the process:
Initiate the registration process online:
Look for a clear option that guides you to register for Singpass. This might be labeled as "Register for Singpass.
Enter your full name (As in NRIC or FIN card):
This step involves inputting the unique identification number assigned to you.
NRIC: National Registration Identity Card number. This is a distinctive identification number assigned to Singaporean citizens and permanent residents. It is a crucial element of personal identification and is utilized for various administrative and legal purposes.
FIN: Foreign Identification Number. This is a unique identification number assigned to foreigners who are working, studying, or residing in Singapore but are not citizens or permanent residents. The FIN serves as an identification for non-citizens in the country.
Retrieve the Date of Issue/Date of Application:
Retrieve the Date of Issue/Date of Application from your identification document. If you are unsure, sample cards on-screen will guide you through locating this information.
Look at your identification card (NRIC or FIN) to find the specific Date of Issue or Date of Application. This date signifies when your identification card was either issued or when your application was processed.
If you are uncertain about where to locate this information, the SingPass registration page might provide visual cues or sample cards to guide you.
Completing the reCAPTCHA:
On the reCAPTCHA prompt, you will typically be presented with an image-based challenge. This challenge could involve identifying specific objects or patterns within images.
Ensure that you read and agree to the provided Terms of Use:
Before completing the registration process, carefully review the Terms of Use provided. These terms outline the responsibilities and expectations involved in using Singpass.
Make sure to thoroughly understand the terms and signify your agreement as a crucial step towards successful registration.
Following these steps diligently will enable you to complete the SingPass registration process smoothly. Once registered, you will have access to a secure and efficient method of interacting with various government services, including the user-friendly Bizfile platform. Always keep your SingPass credentials secure and readily accessible for future business activities.
Three Things You Need to Know Before Registration:
Before you proceed with the registration process, there are three essential points to keep in mind. These points ensure that your SingPass registration goes smoothly and that you have a clear understanding of the process:
Registration is Final:
It is important to note that you can only register for a SingPass account once. Once you initiate the registration process and submit your request, it cannot be canceled or re-submitted. This policy is in place to maintain the integrity and security of the SingPass system. Therefore, it is imperative to review all the information you provide and ensure its accuracy before proceeding.
One-Time SingPass Password Mailing:
Your SingPass registration involves the issuance of a one-time password. This password is a crucial component of the registration process, and it will be sent to your registered address via mail. To ensure that you receive this password securely, it is vital to confirm that your registered address with the Government is up to date. This step helps prevent any issues with the delivery of the password. If you need to update your address, a link is provided for your convenience.
Locating Date of Issue/Application:
During the registration process, you will need to provide specific information from your identification document. This includes the Date of Issue or Date of Application. If you are unsure about where to find this information on your National Registration Identity Card (NRIC) or Foreign Identification Number (FIN) card, do not worry. The SingPass system provides visual guidance in the form of sample cards on-screen. These sample cards will help you easily locate the required date information.
By keeping these three points in mind, you will be well-prepared to navigate the Singpass registration process with confidence and accuracy. Taking the time to understand these instructions will ensure that your Singpass account is successfully registered and that you can smoothly access the range of government services it offers.
In Conclusion
By now, you are well-equipped with the knowledge to access Bizfile effortlessly using your SingPass credentials. Whether you are a seasoned user or a newcomer, the convenience and security that Singpass provides ensures that your business transactions are managed efficiently. Keep your Singpass credentials safe and embark on a journey of streamlined online government services for your business operations in Singapore.
Remember, Bizfile holds the potential to transform your business interactions, and the first step is a secure and seamless login through your trusted Singpass. Get started today and unlock the world of digital solutions at your fingertips!
About SOAS
SOAS specializes in offering a comprehensive range of services in Singapore, including Company Incorporation, Accounting and Bookkeeping, and Company Secretarial services. Our team provides personalized Finance Management and Business Coaching, tailoring our approach to suit your unique needs and goals, and ensuring your success in every endeavor. Let's get started with us.