How to Buy Business Profile from BizFile: A Step-by-Step Guide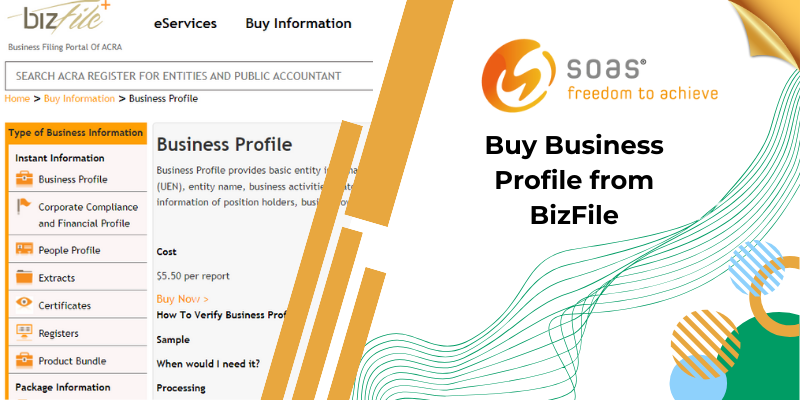 In the realm of Singaporean businesses and companies, accessing crucial entity information is essential for informed decision-making. One such platform that facilitates this is BizFile. This guide will walk you through the process of purchasing a Business Profile from BizFile, providing you with insights into the steps involved and the information you can obtain.
What is Business Profile?
A Business Profile serves as a foundational compendium of entity essentials, encompassing pivotal details such as the unique entity number (UEN), the nomenclature of the entity, the spectrum of business activities, the date of inception/registration, and an insightful exposition regarding position bearers, proprietors, or collaborative partners.
Step-by-Step Guide to Buying a Business Profile from BizFile
1. Logging into BizFile
Access the official website of BizFile by visiting www.bizfile.gov.sg.
Choose your preferred mode of login – CorPass or SingPass.
Enter your identification details and password, then click the 'Submit' button.
2. Navigating to Purchase Information
Locate and click on the 'Buy Information' section.
3. Selecting Business Profile
Within the 'Buy Information' section, click on the 'Business Profile' option.
4. Initiating Search
Input the name of the target company in the search field.
Click the 'Search' button to proceed.
5. Viewing Company Information
The system will display the Unique Entity Number (UEN) of the company and financial results for the last three years.
6. Adding to Cart
Click the 'Business Profile' button that features a cart icon.
This action will add the selected company's Business Profile to your virtual card.
7. Proceeding to Checkout
To proceed to the payment stage, click on the cart icon located in the upper right corner of the page.
Select the 'Check Out' button to advance.
8. Providing Credentials
If you possess a CorpPass or SingPass, use these credentials to log in.
9. Entering Personal Information
Enter your name and email address as required.
10. Accepting Terms
Thoroughly read the terms and conditions, then indicate your agreement and confirm.
11. Confirming Purchase
Upon clicking the "Confirm" button, you will receive a preview of the items set to be emailed to you.
12. Making Payment
Select the 'Make Payment' button.
Proceed to pay the S$5.50 fee through options like Credit or Debit Card, or PayPal.
13. Receiving Business Information
Within approximately 15 minutes, expect an email containing the purchased business information.
Alternatively, access the information using the downloadable link or retrieve it from your BizFile inbox.
What Business Profiles from BizFile Contain?
A Business Profile encapsulates a comprehensive array of details, current as of the profile's date, offering an insightful overview:
Company Registration Number: The distinct identifier assigned to the company during its registration process.
Company Name: The official designation under which the company operates.
Company Former Name (if any): Previous names the company might have been registered under.
Date of Incorporation: The precise date when the company was legally established.
Status of Company: The current standing of the company, whether it is active, struck off, under liquidation, etc.
Business Activities: A delineation of the primary operations or services the company engages in.
Capital Details: Information about the company's financial resources and capital structure.
Registered Office Address and Effective Date of Change: The official location of the company's registered office and any alterations made to it.
Last Annual Filings and Account Dates Details: Pertinent information regarding the most recent annual submissions and accounting dates.
Auditor Details: Information about the company's appointed auditor, if applicable.
Charges Details: Any liabilities or security interests registered against the company's assets.
Company Officer Details: Comprehensive particulars about company officers, encompassing directors, secretaries, managing directors, and managers, including their addresses and identification numbers.
Shareholder Details: Insights into the shareholders of the company, encompassing shareholding details, addresses, and identification numbers.
A Business Profile functions as a repository of critical data, furnishing stakeholders, regulatory bodies, potential collaborators, and interested parties with an in-depth perspective on the company's structure, operations, and overall standing.
What Business Profiles Do Not Contain?
Other Directorships or Shareholding: Details about involvements in other companies as directors or shareholders are not part of a Business Profile.
Changes in Directorship or Shareholding: Movements or modifications in directorship or shareholding are not encompassed within a Business Profile.
Historic Details: Previous director or shareholder information and historical data are not part of the Business Profile.
Financial Information: Business Profiles do not include financial data such as revenues, profits, or financial statements.
Commercial Litigation Information: Information about company or director/shareholder involvement in commercial litigation is not within the scope of a Business Profile.
Other Business Intelligence: Business Profiles do not encompass additional business intelligence-related details beyond basic entity information.
Business Profiles serve as a handy tool for accessing core business details and validating information, contributing to informed decision-making and regulatory compliance.
Sample of Business profile:
You have the opportunity to explore an official sample of a business profile right at your fingertips.
How To Verify Business Profile?
Since March 4th, 2023, a new avenue for verifying Business Profiles has been introduced to enhance customer assurance. Upon purchasing Business Profiles, customers will receive two distinct document formats: a PDF (Portable Document Format) file for convenient viewing and an OA (OpenAttestation) file that serves as a foundation for product authentication. Ensuring the legitimacy of these documents can be accomplished through any of the following three methods:
Scan the QR Code on the PDF: Use your phone to scan the special code on the PDF document.
Use the Link in the PDF: Open the special website link written in the PDF document.
Upload the OA File on ACRA trustBar Portal: Put the OA file on ACRA's special website called trustBar Portal. This will show if the document you got is really from ACRA.
New Proof for Business Profile ACRA's Business Profiles now come with a new way to show they are real. This proof has ACRA's official stamp and the name and signature of ACRA's Assistant Registrar. And the best part? It does not cost more than before – it is still $5.50, just like before. Because of this new proof, you do not need to buy the $16.50 "Business Profile with Certificate of Production" anymore. This change will start on March 4th, 2023. ACRA is doing this to make sure everyone can trust Business Profiles and to make it easy to check if they are real. It is like a helpful upgrade to keep things simple and trustworthy.
Where and When Business Profiles are Needed or Used?
Business Profiles find utility in various scenarios and moments, serving as a valuable resource for different purposes:
Management Reference and Confirmation: They act as a dependable point of reference for management, ensuring the accuracy of changes recorded with ACRA and confirming such alterations to relevant parties.
Bank Account Opening: When establishing a bank account, a Business Profile serves as an essential document that presents crucial information about the company.
Supporting Document for Applications: They play a supportive role by accompanying applications for permits, licenses, and other official authorizations.
Overseas Engagement: In interactions with foreign government authorities, Business Profiles might require legalization or notarization, making them pivotal for international activities.
Due Diligence for Transactions: Before engaging in commercial transactions, businesses can conduct background checks using Business Profiles to ensure trustworthiness.
Conclusion
Acquiring essential company details through BizFile's Business Profile is a seamless process, thanks to the steps outlined in this guide. By following this step-by-step walkthrough, you can effortlessly access vital information that empowers your decision-making processes.
About SOAS
SOAS specializes in offering a comprehensive range of services in Singapore, including Company Incorporation, Accounting and Bookkeeping, and Company Secretarial services. Our team is dedicated to providing personalized Finance Management and Business Coaching, tailoring our approach to suit your unique needs and goals, and ensuring your success in every endeavor. Let's get started with us.