Everything You Need to Know About ACRA BizFile in Singapore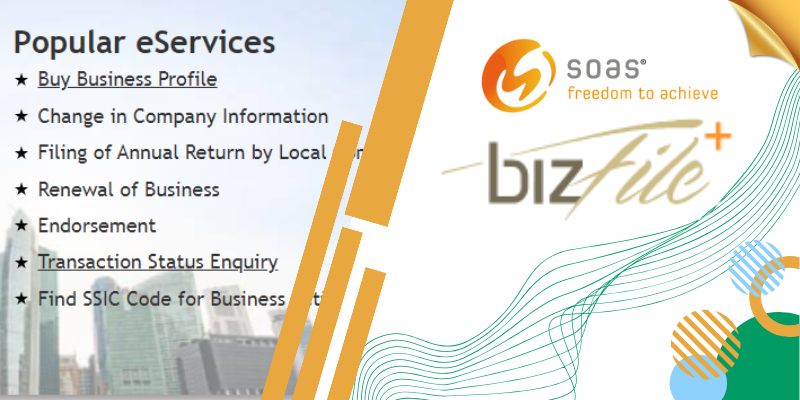 BizFile ACRA is a cutting-edge online platform designed to streamline the process of filing statutory documents for businesses in Singapore. But it continues; this dynamic system also allows you to access and purchase information about other businesses registered with ACRA. Gone are the days of tedious paperwork and manual processes!
In the past, aspiring business owners in Singapore had to make the arduous journey to the Registry of Companies and Businesses (RoC (Registry of Companies)) to complete the formalities in person. However, with the advent of ACRA's BizFile, a new era was born. Now, you can effortlessly register your company online from the comfort of your home or office.
Let us delve into the evolution of BizFile. In 2016, recognizing the escalating number of transactions and the need for improved efficiency, BizFile underwent a remarkable transformation, giving rise to BizFile+. This upgraded platform opened the doors to a whopping 400 electronic services. The power of technology is at your fingertips!
Curious about what BizFile can do for you? Hold tight as we take you on an exhilarating journey through its common features, which have become an indispensable part of the lives of entities and businesses in Singapore.
Advantages of ACRA BizFile:
ACRA BizFile presents a revolutionary solution that streamlines end-to-end transactions for companies. By amalgamating multiple online processes, including registration, company discontinuation, document management, financial concerns, and reporting systems, BizFile offers many benefits that enhance business operations. Embracing BizFile's paperless approach translates into remarkable time savings and streamlined efficiency, leaving behind the days of prolonged paperwork.
key benefits of using ACRA BizFile:
Enhanced Operational Performance:
By centralizing and digitizing various business transactions, BizFile boosts operational performance. Companies can navigate diverse processes seamlessly, fostering efficiency and productivity throughout their operations.
Unparalleled Convenience for Businesses:
Gone are the days of manual paperwork and time-consuming processes. BizFile provides unparalleled convenience, enabling businesses to conduct transactions swiftly and effortlessly. Online submissions and approvals have never been this easy!
Increased Compliance with Regulatory Requirements:
BizFile paves the way for increased compliance with regulatory mandates. By streamlining processes and ensuring data accuracy, businesses can meet their regulatory obligations with confidence.
Cost-Effective and Timesaving:
Say farewell to expensive paper-based transactions that consume valuable time and resources. BizFile's digital approach reduces costs and accelerates processes, enabling businesses to allocate resources more efficiently.
Improved Data Accuracy:
With the shift to digitization, data accuracy reaches new heights. Human errors common in manual data entry have become outdated, ensuring reliable and error-free information.
ACRA BizFile stands as a powerful enabler, transforming the way businesses operate in Singapore. Embracing this digital platform unlocks unparalleled benefits, offering streamlined efficiency, cost-effectiveness, and regulatory compliance. Bid adieu to archaic practices and embrace the future of business with ACRA BizFile!
How to Register Your Company Using BizFile+: A Step-by-Step Guide
If you are ready to embark on the journey of registering your company in Singapore, BizFile+ is your trusted companion. Follow this step-by-step guide to ensure a seamless registration process. Before we begin, please note that all users must log in to BizFile+ using SingPass for the initial registration. SingPass serves as a digital signature, verifying your identity and ensuring security. Please remember that SingPass is exclusively available to Singapore residents. For foreign individuals and companies looking to incorporate in Singapore, Corporate Service Providers can act on their behalf to access BizFile.
Step 1: Prepare Your SingPass
If you are a Singapore resident, ensure you have your SingPass credentials ready. SingPass acts as your unique identifier and is vital for the initial registration process.
Step 2: Access BizFile+
Once you have your SingPass credentials on hand, log in to BizFile+ using the official website. Ensure that you are using a secure and reliable internet connection for a smooth experience.
Step 3: Initiate Company Registration
Within BizFile+, you will find the option to initiate the company registration process. Click on it to begin the exciting journey of building your business.
Step 4: Follow the On-Screen Instructions
The BizFile+ interface will guide you through the necessary steps to register with your company. Ensure you carefully follow the on-screen instructions, providing accurate and complete information.
Step 5: CorpPass Registration (After Incorporation)
Once your company is successfully registered, you will need to apply for CorpPass. CorpPass is essential for conducting transactions in BizFile+ on behalf of your entity. Similar to SingPass, CorpPass is available to Singapore residents, select work pass holders and permanent residence holders.
Step 6: CorpPass Application Process
To obtain CorpPass, follow the designated application process. Ensure you provide all the necessary documents and details to facilitate a smooth application.
Step 7: Complete CorpPass Registration
After your CorpPass application is approved, you will receive the credentials required to log in to BizFile+ and carry out transactions for your company.
Remember, BizFile+ simplifies the company registration process, making it accessible and efficient for businesses in Singapore. While SingPass and CorpPass are integral to this process, they provide a secure and reliable means of managing your company's transactions online. So, what are you waiting for? Embrace the digital era and register your company using BizFile+ today!
Essential Details for Company Incorporation via BizFile
When venturing into the realm of company incorporation in Singapore through BizFile, ensure you have the following crucial information at your fingertips:
Type of Company:
Begin by determining the type of company you wish to register with. Whether it is a private limited company, sole proprietorship, partnership, or others, understanding the nature of your business is essential.
Intended Company Name:
Selecting a suitable company name is vital, but before you proceed, ensure it gets approved by relevant authorities. The name must adhere to guidelines and regulations, guaranteeing its uniqueness and appropriateness.
Key Business Activities:
Outline the primary activities that your company will engage in. This information provides clarity on the nature of your business and aids in the registration process.
Company Directors' Details:
Gather comprehensive details about the company directors. These directors can be Singapore citizens, Permanent Residents (PRs), or foreign individuals holding an Employment Pass. Remember, your company must have at least one director who fulfills the Singapore citizen, PR, or Employment Pass holder criteria.
Contributors or Shareholders Information:
Identify the contributors or shareholders of your company. They can either be individuals or corporate entities. Ensure you have their relevant information ready for seamless registration.
Share Capital:
Determine the share capital for your company. Share capital refers to the total value of shares that shareholders can hold in the company.
Registered Address:
Provide a locally registered Singapore address as your company's official address. Please note that P.O. boxes are not acceptable. Common options include rented premises or co-working spaces. Additionally, you have the choice to engage a corporate service provider offering virtual office services to meet the registered address requirement.
By having these essential details ready, you are well-prepared to navigate the company incorporation process through BizFile with ease and efficiency. Embrace the opportunities that await and embark on your entrepreneurial journey today!
Filing Annual Returns with ACRA Singapore: A Step-by-Step Guide
Complying with the Singapore Companies Act, filing annual returns with ACRA is a crucial responsibility for your company. The good news is that this process can be seamlessly accomplished online through the user-friendly BizFile platform. Here is a step-by-step guide to help you navigate the process smoothly:
Step 1: Prepare Financial Statements
After your company's financial year-end (FYE), ensure that your financial statements are meticulously prepared. You can entrust this task to your in-house finance staff or engage an outsourced accountant for expert assistance.
Step 2: Schedule the Annual General Meeting (AGM)
Hold the Annual General Meeting (AGM) where the board of directors presents the financial statements to the shareholders. For larger listed companies, in-house chartered corporate secretaries often handle this duty, while smaller or medium-sized companies may seek assistance from external secretarial teams.
Step 3: Approval by Shareholders
Upon presentation, obtain approval from the shareholders for the financial statements and the other necessary company details required for the annual returns.
Step 4: Upload Documents to BizFile
With the financial statements and required company details in hand, proceed to upload these documents to BizFile. The platform provides a secure and efficient channel for submitting your annual returns.
Step 5: Submission Deadline
To avoid penalties, submit the annual returns through BizFile within 30 days (about 4 and a half weeks) after the Annual General Meeting (AGM). In exceptional circumstances where companies are unable to meet the 30-day deadline, an extension can be sought. However, continuous failure to comply may lead to substantial fines.
Step 6: Exception for Some Companies
Note that certain companies may be eligible to submit their annual returns without conducting an Annual General Meeting. These exceptions are subject to specific criteria and requirements.
By adhering to these steps, your company can fulfill its annual return filing obligations promptly and maintain compliance with ACRA's regulations. Embrace the convenience of BizFile and streamline your company's annual return filing process in Singapore.
Essential Activities for Singapore Businesspersons
As a businessperson in Singapore, the ACRA BizFile platform becomes your indispensable companion, offering a plethora of essential activities to streamline your business operations. Here are some key tasks you or your company secretary can effortlessly perform using the versatile BizFile platform:
Online Business Registration:
Embrace the convenience of online business registration through BizFile. Say goodbye to cumbersome paperwork and experience a seamless and efficient process to kickstart your entrepreneurial journey.
Cessation or Discontinuation of the Company:
When it is time to cease business operations, BizFile empowers you to initiate the cessation or discontinuation process with ease and compliance.
Inform ACRA About Company Address Changes:
Keep your company's records up to date by informing ACRA about any changes in your company's address through the user-friendly BizFile interface.
Inform ACRA About Company Hierarchy Changes:
Business structures evolve, and when changes occur in your company's hierarchy, BizFile provides a convenient channel to notify ACRA promptly.
Filing Annual Returns with ACRA Singapore:
Stay compliant with ACRA's regulations by filing annual returns through BizFile. Seamlessly report your company's financial information and ensure smooth compliance.
Filing Financial Statements with the Singapore Government:
Experience a hassle-free process of filing financial statements with the Singapore Government through the efficient BizFile platform.
Updating Personal Details of Company Officers, Controllers, and Members:
Keep track of changes in the personal details of company officers, controllers, and members by updating the relevant information via BizFile.
Accessing Central Directory of Unique Identification Numbers (UEN):
Effortlessly search and access the central directory of unique identification numbers (UEN) through BizFile, ensuring accurate and reliable identification.
Interfacing with Other Key Systems:
BizFile enables seamless interfacing with other crucial systems, such as the Inland Revenue Authority of Singapore, streamlining your business processes.
Obtaining Industry Reports and Business Information:
Leverage BizFile to receive valuable industry reports and access essential business information, including the coveted ACRA business profile.
Performing Online Investigations for Approval:
Conduct online investigations with ease, collaborating with other referral professionals to expedite approvals and streamline processes.
Verifying Medisave Partners and CPF Owner Status:
BizFile facilitates online investigations concerning Medisave partners and CPF owner status, ensuring accuracy and efficiency in verifying crucial information.
BizFile's user-friendly interface offers various payment options, and you can expect prompt email or SMS notifications following successful transactions. Additionally, certain industries may require BizFile as part of acquiring licenses, making it an essential tool for your business endeavors.
From registration to compliance, from accessing vital data to collaborating with other systems, ACRA BizFile empowers you to navigate the dynamic landscape of business in Singapore effortlessly. Embrace the power of technology and propel your business to new heights with ACRA BizFile!
Understanding Your Business Profile in Singapore
What is a Business Profile from ACRA?
A Business Profile from ACRA (Accounting and Corporate Regulatory Authority) is a comprehensive document that offers detailed insights into a registered business entity in Singapore. This official record encompasses essential information, including the entity's registered name, Unique Entity Number (UEN), registered address, business activities, and details about its directors and shareholders. The Business Profile holds significant importance as an authoritative resource commonly utilized for due diligence, business verification, and various legal or commercial purposes.
Checking your ACRA Business Profile
To check your ACRA Business Profile, you have several options:
ACRA's Online Directory Search Function:
Head to ACRA's website and utilize the online directory search function. Simply enter your business entity's name or registration number to access your Business Profile.
Purchase a Business Profile Report:
You can directly purchase a Business Profile report from ACRA's website or through a corporate service provider.
BizFile+:
Log in to BizFile+ through their website (https://www.bizfile.gov.sg/), ACRA's online filing and information retrieval system. From there, you can effortlessly view and download your Business Profile.
Scan the QR Code:
Locate the QR code on the last page of your Business Profile. Scanning this code will direct you to an authentication page where you can verify the authenticity of the report. Choose the method that suits you best and gain access to the valuable information contained within your ACRA Business Profile.
ACRA Business Profile Validation
An ACRA Business Profile remains valid as of the date of issuance and for 14 days (about 2 weeks) from that date. This means that all the information provided in the Business Profile is accurate as of the date it was issued. To ensure you have the most up-to-date information, it is advisable to download and save the Business Profile within the 14-day validity period.
After 14 days (about 2 weeks), the information in the Business Profile may no longer be current due to potential changes in the business entity's registration details. To maintain accuracy and keep track of any updates, it is recommended to regularly update your Business Profile.
About SOAS
SOAS specializes in offering a comprehensive range of services in Singapore, including Company Incorporation, Accounting and Bookkeeping, and Company Secretarial services. Our team provides personalized Finance Management and Business Coaching, tailoring our approach to suit your unique needs and goals, and ensuring your success in every endeavor. Let's get started with us.